​
The sound of America echoes across the country, made up of the music of our collective and diverse cultural experiences. From the jazz of New Orleans and the blues of Chicago to the hip-hop beats of the Bronx and the Latin rhythms of Miami.
Trace the roots of American music with Grammy-nominated singer/songwriter Aloe Blacc in "America's Musical Journey," a new giant-screen documentary from the team that produced "National Parks Adventure," opening Friday, March 23 in the Cleveland Clinic DOME Theater at Great Lakes Science Center.
The film, produced by MacGillivray Freeman Films in association with Brand USA and presented by Expedia and Air Canada, celebrates the unique diversity of cultures and creative innovation that characterize America, as told through the story of its music. With narration by Academy Award winning actor Morgan Freeman, the movie follows the footsteps of Louis Armstrong through the colorful locales and cultures where America's music was born. As audiences join Blacc on this joyful, tune-filled tour, they'll visit such iconic cities as New Orleans, Chicago, New York City, Nashville, Memphis, Miami and more, exploring the collision of cultures that gave birth to jazz, the blues, country, rock and roll, and hip-hop!
If "America's Musical Journey" had you dancing in your seat, there's more music to discover! Check out our Spotify playlist created around the people and places within the film!
| | |
| --- | --- |
| July 1 - August 11 |  2 & 4 p.m. |
| August 12 |  4 p.m. |
| August 13-31 |  2 & 4 p.m. |
​
Science Rocks!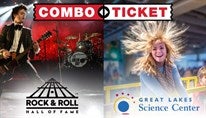 Two Great Museums! One Great Price!
The Science Rocks package gives visitors access to the Rock & Roll Hall of Fame and Great Lakes Science Center with the option to add a film in the Science Center's six-story, domed Cleveland Clinic DOME Theater. These neighboring attractions are perfect for a family staycation or vacation. For an inside look at the lives and the stories behind the music of your favorite performers, visit the Rock & Roll Hall of Fame. Invent, tinker and create your way through hundreds of hands on exhibits at Great Lakes Science Center, including the NASA Glenn Visitor Center.