​​Apollo 50 - Next Giant Leap
"That's one small step for a man, one giant leap for mankind."
Help us celebrate the anniversary of one of mankind's greatest achievements! During the Apollo program of the 1960s and '70s, NASA sent nine missions to the Moon. Six of them landed astronauts safely on the surface, the only times humans have visited another planetary body. July 20, 2019 marks the 50th anniversary of the FIRST humans landing on the Moon in 1969, as part of NASA's Apollo 11 lunar mission, but we are celebrating all season long! Check out some of our can't-miss-events:
APOLLO 11: First Steps Edition at the DOME Theater - Opens June 1!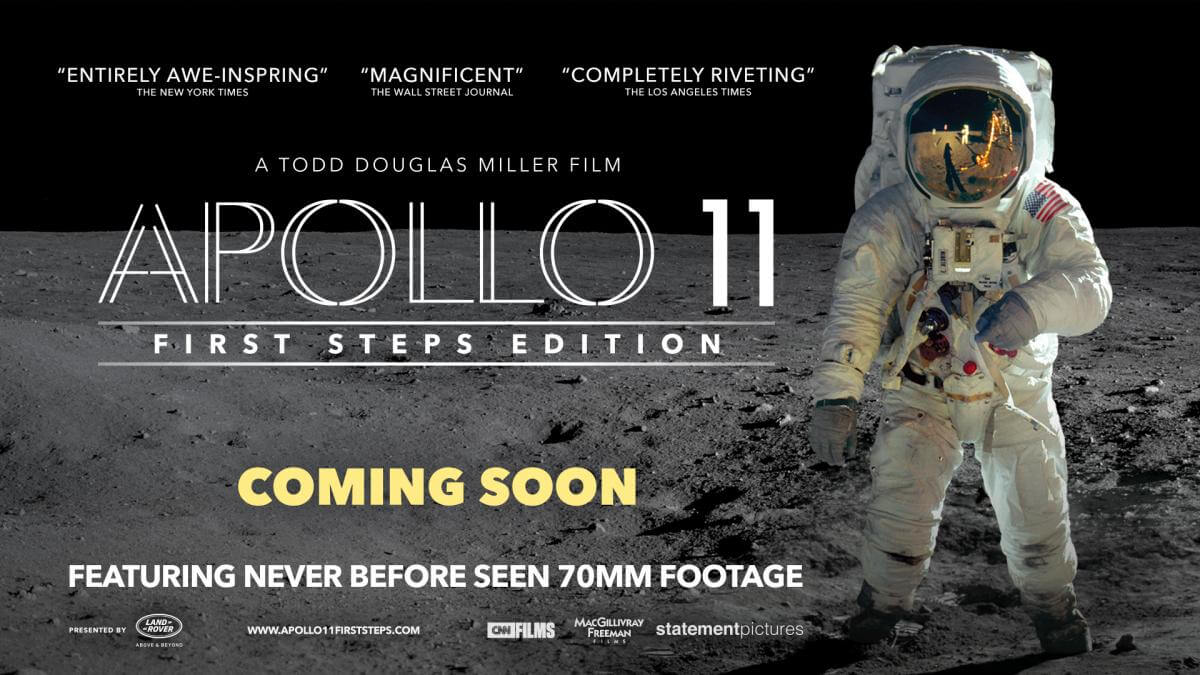 Timed to the 50th anniversary of NASA's celebrated Apollo 11 mission, APOLLO 11: First Steps Edition is a thrilling cinematic experience that showcases the real-life moments of humankind's first steps on the moon. In this special giant-screen edition of Todd Douglas Miller's critically acclaimed Apollo 11 documentary, created exclusively for science centers and museum theaters, the filmmakers reconstruct the exhilarating final moments of preperation, liftoff, landing and return of this historic mission. With a newly discovered trove of never-before-seen 70mm footage and audio recordings, APOLLO 11: First Steps Edition joins astronauts Neil Armstrong, Buzz Aldrin and Michael Collins, the Mission Control team and millions of spectators around the world, during those momentous days and hours in 1969 when humankind took a giant leap into the future.

Catch the film in the DOME Theater this May! Take a look at the film, below:
 
---
July 15-19: Camp Curiosity's Race to Space: Apollo Challenge
For the week of July 15-19, Camp Curiosity is taking a lunar dive into the Apollo 11 mission! Celebrate the anniversary in Northeast Ohio's premier NASA space camp. Pay respect to the past and use what was learned through the Apollo mission to challenge the future of space exploration. Venture deep into technology, chemistry and engineering to find new ways to reach for the stars! Programming is available at all three camp locations.
---
July 19-20: Apollo 11 Anniversary Celebration at Great Lakes Science Center
Join us and NASA's Glenn Research Center for two days of space exploration! Get hands-on with Science Center special programming and explore NASA Glenn's Graphics and Visualization Lab, along with real Apollo mission artifacts! Free with general admission.
Apollo Chat
NASA Glenn Visitor Center, Explore Gallery, Level 1
Time: Hourly from 11 a.m. to 4 p.m.
Meet our moon rock and learn more about our Apollo capsule, lunar missions, and properties of the moon as we investigate the lunar landscape and imagine living on the surface of the moon. Be sure to check out our Mission to STEM app (iOS only) or borrow an iPad from the box office to explore the NASA Glenn Visitor Center in more detail.
Chemistry and Combustion Show
Cleveland Creates Zone, Level 1
Time 12:15 p.m.
Chemistry comes to life as potential energy becomes sound, light, and excitement in this high energy show full of color, chemistry and combustion.
Lift Off Big Science Show
Cleveland Creates Zone, Level 1
Time: 2:15 p.m.
The first step in exploring space is getting off the ground. Watch in wonder as we explore the forces and fuel that make landing on the moon possible in this explosively fun demonstration.
Rocket Lab Challenge
Wintergarden, Lower Level (outside on the harbor, weather permitting)
Time: 11 a.m. to 4 p.m.
Celebrate the 50th anniversary of the Apollo 11 lunar landing! Challenge your family and friends to engineer the best rocket, and then test it using our high powered launchers. 
Vacuum of Space Cart Activity
NASA Glenn Visitor Center, Level 1
Time: 11 a.m. to 4 p.m.
How would the atmosphere of the moon or Mars affect life? Learn how Earth's atmosphere compares to space and how living on another planet might be different.
Picture Yourself in Space
Special Exhibition Foyer, Lower Level
Time: 11-4 p.m.
Pose for the camera for your own souvenir photo to take home with you as an astronaut!
---
Summer 2019: Cuyahoga County Public Library Speaker Series
Join Great Lakes Science Center for "Legacy of Apollo: The Greatest Leap," a special presentation about the historic Apollo space program, including the Apollo 11 mission to the moon. Audiences will join our STEM Educator as we embark on our own journey of exploration while chronicling the early days of spaceflight, the tragedies, the triumphs and lessons learned. We will conclude the presentation with questions and discussion about the future plans for human spaceflight.
| | | |
| --- | --- | --- |
| June 6 @ 7 p.m. | Parma Heights | 6206 Pearl Road, Parma Heights |
| June 22 @ 2 p.m. | Parma | 6996 Powers Blvd., Parma |
| July 6 @ 2 p.m. | Bay Village | 502 Cahoon Road, Bay Village |
| July 11 @ 7 p.m. | North Royalton | 5071 Wallings Road, North Royalton |
| July 12 @ 11 a.m. | Gates Mills | 1491 Chagrin River Road, Gates Mills |
| July 13 @ 2 p.m. | Berea | 7 Berea Commons, Berea |
| July 18 @ 7 p.m. | Brecksville | 9089 Brecksville Road, Brecksville |
| July 20 @ 11 a.m. | Mayfield | 500 SOM Center Road, Mayfield |
| August 21 @ 7 p.m. | Chagrin Falls | 100 East Orange Street, Chagrin Falls |
---
To the Moon and Back
We are proud to announce that Great Lakes Science Center is a featured stop on the Ohio.org road trip: "To the Moon and Back Experience!" This customized road trip celebrates the pioneering spirit of flight and the awe-inspiring vastness of space at hands-on museums, science centers and observatories honoring the innovation of men and women determined to go to the moon and back.