​Our Mission
Great Lakes Science Center's mission is to make science, technology, engineering and math come alive.
---
Our Vision
Our vision is a community where all people value science, technology, engineering and math to inform decision-making and enrich lives.
---
Guiding Principles
We help people learn STEM by doing STEM and believe that it is best learned through real scientific challenges.
We cultivate creative, innovative, critical thinkers for the 21st century.
We support a learning culture that encourages curiosity and experimentation.
We bring people together by creating welcoming, fun and high-quality guest experiences.
We strengthen our community impact by collaborating with other organizations and connecting to STEM resources in our region.
We ensure our future by maintaining our long-term fiscal and staff sustainability.
---
Diversity, Access, Equity and Inclusion Statement
Great Lakes Science Center embraces and encourages the attributes, characteristics, and perspectives that make each individual unique. We consider diversity, equity, access and inclusion essential for institutional excellence and fulfillment of our vision - a community where all people value STEM to inform decision making and enrich lives. We believe our strength lies in the collective sum of individual differences, life experiences, knowledge, ingenuity, self-expression, and unique capabilities. Our employees, volunteers, guests, and partners bring and invest these strengths in their daily experiences at Great Lakes Science Center. We champion an unending commitment to diversity of participation, thought, and action. It is our aim, therefore, that our board, staff, and key stakeholders embrace these principles.

Approved by the Great Lakes Science Center Board of Directiors, March 17, 2021
---
2022-2027 Strategic Business Plan
---
Leadership
Kirsten M. Ellenbogen, Ph.D.
President & CEO, Great Lakes Science Center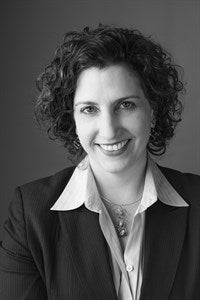 Dr. Kirsten Ellenbogen began her tenure as third President and CEO of Great Lakes Science Center in 2013 with a strategic initiative developed in collaboration with corporate leaders to change the community's narrative around advanced manufacturing for diverse middle-school youth and families. This work was recognized by the White House Office of Science and Technology Policy, who chose the Science Center as the unveiling site for the National Week of Making with Mythbuster's host Adam Savage in 2016. Most recently, she has launched Cleveland Connections: a new initiative integrating emerging technologies, such as blockchain and industrial internet of things, to educate and empower youth in developing personal and community solutions. She leads an innovative and committed team at the Science Center that has used the best scientific research to develop safe operating models, allowing them to continue to serve families and schools during the public health and economic crises that have magnified persistent racial inequities in our community. The Science Center has been honored for this work and named a 2021 National Medal for Museum and Library Service finalist, recognizing their pioneering approaches and deep community partnerships during this difficult year.
 
Her research focus has included measuring the community impact of science centers and studies at the intersection of rhetoric, science communication, and informal science education. She was appointed to Section X of the British Association for the Advancement of Science and to the National Academy of Sciences' committee that produced Learning Science in Informal Environments. Dr. Ellenbogen's energetic leadership on field-advancing initiatives such as the Center for Informal Learning and Schools and the Nanoscale Informal Science Education Network, has included serving as co-principal investigator of the Center for Advancement of Informal Science Education. She was elected President of the Visitor Studies Association in 2007. In 2010, she was awarded a Noyce Fellowship focused on using museum resources to help policy makers use scientific evidence to inform decision-making. She is honored to have received the recognition as the 2015 Community Inspiration Award at STEMCON, 2017 Crain's Women of Note Award, 2019 Crain's Notable Women in STEM, 2019 Cleveland Magazine Women Living STEM, and the 2021 Cleveland 500 Leaders, Doers, Visionaries, & Idea Generators Who Shape the City.
 
In 2018, Dr. Ellenbogen was appointed to the National Academies of Sciences, Engineering, and Medicine Standing Committee on Advancing Science Communication Research and Practice, which she co-chairs. She is also chair of the Downtown Cleveland Alliance Visioning Committee, and Secretary of the board and co-chair of the conference planning committee of the Association of Science and Technology Centers, serving more than 600 science centers in 48 countries.
 
Dr. Ellenbogen is passionate about Cleveland and has been honored to lead the Science Center in playing important roles that help put the city in the spotlight for the 2016 Republican National Convention and the 2021 National Football League Draft. She served on the Cleveland Mayor's Sustainable City Committee, the Planning and Urban Design Committee of the Group Plan Commission, and is a proud alumna of the 2014 class of Leadership Cleveland. Currently she serves on the boards of the Cleveland Water Alliance, the Rock and Roll Hall of Fame and Museum, and Cleveland's MC2STEM High School. She received her Ph.D. in Science Education from Vanderbilt University and her B.A. from the University of Chicago. She lives in Shaker Heights with her husband, a Cleveland Metropolitan School District teacher, and their two children. 
Scott Vollmer
Vice President of STEM Learning, Great Lakes Science Center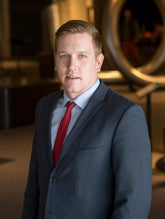 ​Scott Vollmer joined the senior management team at Great Lakes Science Center in November 2017, after 10 years at the National Inventors Hall of Fame in North Canton. Vollmer worked in a variety of roles at the NIHF, most recently serving as the institution's vice president of creative and program development. During his time there, he led a diverse team of designers, scientists, educators and engineers to create products and experiences that advanced the pioneering spirit of America.

In his new role as vice president of STEM Learning at the Science Center, Vollmer directs all of the museum's STEM learning initiatives including programs for school groups, the general public, early childhood, home school, Great Science Academy, day camps and the volunteer staff.

Vollmer is a passionate leader whose career is firmly rooted at the intersection of creativity and innovation. He believes the Science Center is an institution for change and can be an essential catalyst within the community for nurturing the next generation of STEM leaders. Vollmer is excited to work with Science Center President & CEO Kirsten Ellenbogen in articulating the museum's mission to current and future community partners.

Vollmer is a lifelong resident of Northeast Ohio. In addition to his extensive work at NIHF, he served as executive director of After-School All-Stars Cleveland. He received a bachelor's degree in history from the University of Akron. He also holds several utility and design patents and received three Addy Awards for excellence in advertising.

He lives with his son, Isaac, in Akron.
Amanda R. Taunt
Vice President of Operations, Great Lakes Science Center.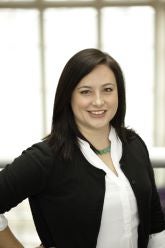 Amanda joined Great Lakes Science Center in July 2011 after serving as a manager with the Hertz Corporation and has served on the Science Center's executive management team since October 2019.

As vice president of operations, Taunt leads daily operations of the marketing, admissions & registration, membership, private rentals and facilities & security departments. She also oversees partner contracts for the Science Store, Levy Restaurants and the parking garage.

Taunt's departments coordinate most visitor facing aspects of Great Lakes Science Center, from before a visit occurs to a guest's experience while onsite and as they are leaving. With over 10 years of experience in guest services, she has a passion for delivering exceptional guest experiences in a way that makes visitors feel welcomed, engaged and inspired at the Science Center.
Taunt is originally from Grand Rapids, Michigan and currently resides in Olmsted Falls with her husband, Mike. She graduated from Miami University (Ohio) with a bachelor's degree in Political Science. She is a graduate of Disney's Approach to Quality Service program and the YWCA Women's Leadership Bootcamp. Taunt enjoys reading and traveling in her spare time. 


Liz Conway
Vice President of Development, Great Lakes Science Center.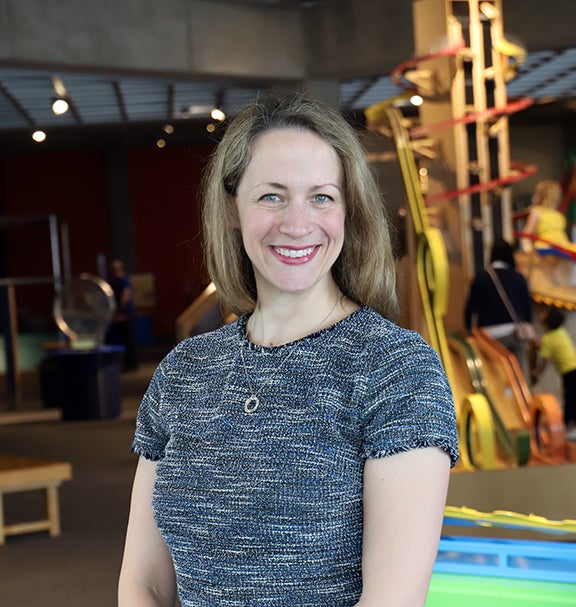 Liz Conway is the newest member of the senior management team at Great Lakes Science Center. She oversees all of the museum's fundraising and donor initiatives including corporate, foundation and individual giving, grant funding programs and campaigns.

Conway is an experienced development professional with a passion for education and cultural arts. She came to the Science Center in March 2023 after eight years as director of development at the Tri-C Foundation where she was responsible for providing resources for advancing student success at Cuyahoga Community College, working alongside community leaders through corporate partnerships, foundation and individual giving, and special events. Prior to her role at the Tri-C Foundation, she served as institutional giving manager at Cleveland Play House.

Conway brings more than 15 years of experience to the Science Center, working directly with community leaders in the arts and higher education sectors. She is an alum of Cleveland Bridge Builders Class of 2020, and is currently a cohort member of the Cleveland Foundation's Foundations for Philanthropy. She has worked with a variety of civic organizations and is a former board chair of Talespinner Children's Theatre. She has appeared on numerous regional stages and is the co-creator and performer of the popular act "The Loush Sisters." She earned her B.A. in American studies from Fordham University, and currently lives in Cleveland with her husband and two children.